Cathedral of the Holy Family
Saskatoon
Sacramental Preparation for Children & Youth
Baptism
Reconciliation
First Communion
Confirmation
In the Diocese of Saskatoon, we prepare to receive First Communion at age 7 and Confirmation at age 11 (or anytime older).Information & registration are now available for the 2023-2024 preparation year.Please register today. We begin with information meetings at the end of September.
What's going on?
Information Package
This package will be handed out at the Parent/Family Information Meetings. It includes the full schedule and much more information about our program this year.(coming soon)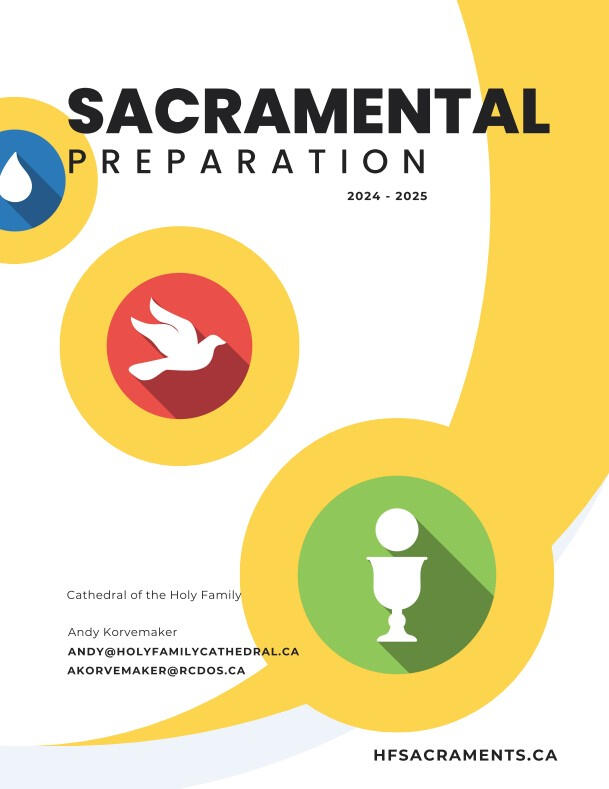 When are the sessions?
Schedule
Many of the preparation sessions (but not all):
- Ages 7-10 are often on Sundays from 1:30-2:30pm
- Ages 11 & up are often on Tuesdays from 6:30-7:30pm
(usually about 2 weeks apart)Need a quick link to the full schedule?
(coming soon)
Next Up
Parent/Family Information Sessions:
- Sunday, Sept. 24 @ 1:30pm
- Tuesday, Sept 26 @ 4:30pm
- Tuesday, Sept 26 @ 6:30pm
- Thursday, Sept 28 @ 4:30pm
- Thursday, Sept 28 @ 6:30pm
Foundations
Baptism
For those who are not yet baptized, our program will prepare them to receive Baptism, along with Confirmation and First Communion, at Easter.For those who were baptized in a non-Catholic church, they will become Catholic by receiving Confirmation & First Communion.
Forgiveness
Reconciliation (Confession)
The Sacrament of Reconciliation regularly restores our relationship with God & with the Church. It prepares our hearts to receive the other sacraments more fully.We prepare for and receive this sacrament as part of our preparation for First Communion or Confirmation.
The Eucharist
First Communion
The Eucharist is the source and summit of our lives as Catholics.We prepare all those aged 7 and older to receive Holy Communion for the first time, and throughout their lives.
The Holy Spirit
Confirmation
The bishop confirms our baptism and we are sealed with the gift of the Holy Spirit in Confirmation.We prepare those aged 11 and older for the Sacrament of Confirmation. (Prior to 2021, we typically celebrated Confirmation at the same time as First Communion.)
Sign Up Today
Register
We have a common registration form, regardless of age or which sacraments will be received this year.
Cost
Payment
We are asking families for $40 to help cover the costs of our program and materials.Interac e-Transfers can be sent to payment@holyfamilycathedral.ca. Please include a note that it is for sacramental preparation and your child's name.
We also can accept payment in person (cash, cheque, VISA, MasterCard, or debit) at the parish office.